"THE BRYCE IS RIGHT!" eBOOK ON MANAGEMENT RELEASED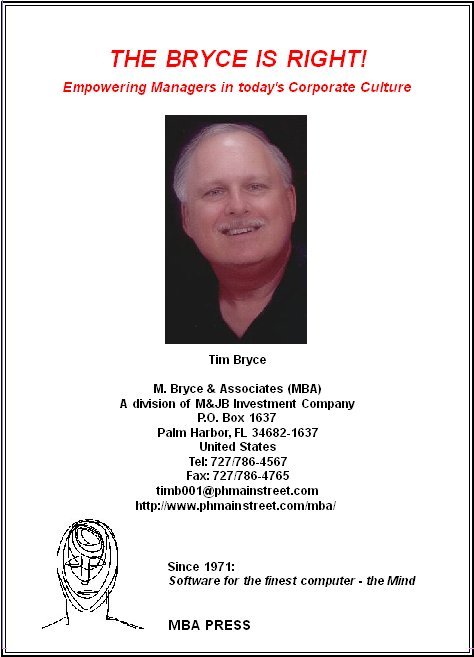 PALM HARBOR, FL, USA (June 13, 2006) - M. Bryce & Associates (MBA) is pleased to announce the release of a new book for management, THE BRYCE IS RIGHT! Empowering Managers in today's Corporate Culture which is implemented as an eBook (PDF).
This is a frank and candid description of the state of the art in management. Includes essays on the problems in management today, along with some pragmatic advice on how to deal with them. The eBook doesn't ramble; it gets straight to the point and represents a common sense approach to managing in today's corporate world with a dash of humor thrown in. This "food for thought" eBook is a handy handbook for today's managers and the next generation of workers.
This eBook is written by Tim Bryce, a 30 year veteran who has consulted with some of the largest corporations in the world, as well as many small and medium sized businesses.
Basically, this is a condensed course in management. As such, it is suited for managers, either those aspiring to become a manager or for those who need a refresher course. It will also be of interest to young people entering the work force.
Excellent for college curriculums.
INTRODUCTION:
Who should read this book? Managers.
The corporate landscape has changed a lot since I first entered the work force in the 1970's. Thanks to changes in government regulations and socioeconomic conditions, we have witnessed substantial changes to corporate cultures in terms of communications, fashion, socialization, morality, and how we conduct business. Despite all this, one thing has remained constant: the need to get a job done, and this is the domain of the manager.
Quite often management is taken for granted, that it comes naturally to people. It doesn't. I see companies spending millions of dollars on technology but little on improving the skills of its managers. To me, this is putting the cart before the horse. Some people are afraid to manage; probably because they don't know how to or because they live in fear of a lawsuit. And others devise harebrained schemes to manage their area (usually involving the manipulation of numbers). There is actually nothing magical to management; all it requires is a little common sense. But as I have learned over the last 30 years in business, if there is anything uncommon today, it is common sense. I wrote this book because management is not naturally intuitive to people, nor is it painless, and to remind you that "man" is the key element of "management."
This book is well suited for those aspiring to become effective managers, as well as for those who require a refresher or change of focus. It should also be read by workers to better understand what is required of a manager, thereby lending him the support he desperately needs to fulfill his duty. Some of you may not like what I have to say, and I warn you that I am not always politically correct. Regardless, my observations are based on years of experience traveling around the world and visiting with hundreds of different types of corporations where I have seen a lot of successes, as well as a lot of snafus.
This book is actually based on a collection of papers on Information Resource Management (IRM) I wrote from 2004 - 2006. My original intent was to discuss such things as planning, systems and data base design, and project management. However, I was encouraged by my readers to expand my commentaries into other areas involving general management, hence the development of this collection of papers.
Throughout this book you will hear a lot about such things as corporate culture, empowering the workers (managing from the bottom-up), and the need for developing the socialization skills of the next generation of our workers; in other words, the human elements of management. This is one reason why our corporate slogan is "Software for the finest computer - the Mind," for in the end, it is the human-being that matters most, not our technology.
The eBOOK (ISBN 0-9786182-3-8) is 90 pages in length and is implemented using the popular Adobe Reader. This provides the means to quickly navigate the eBook through bookmarks as well as print the pages (8.5" x 11" paper). The price for this version is $20.00 (U.S.) plus tax and is delivered via e-mail. The eBook is sold and destributed by MBA as well as authorized book retailers (discounts available). Excerpts from the eBook are also available (a trial version); click HERE for the PDF file.
The eBook is excellent for both corporate managers as well as at the university level where it complements a college curriculum.
REVIEWS
"A breath of fresh air in the polluted ether of Silicon Valley management."
- Bill Dominguez Ecocentric Strategies San Francisco, CA, USA
"The book has a good flow. Well written and has tons of good ideas on management."
- John Lusa Dayton, OH, USA
"If you don't want to manage right. Do not read this book.
The book contains philosophies that are universal and fundamental."
- W.P. O'Callaghan
Philadelphia, PA, USA
This eBook will be followed by a training course which will be made available on-site. Details to follow soon.
For additional information on the eBook, click HERE.
Notice distributed by:
Tim Bryce
Managing Director
M. Bryce & Associates (MBA)
a division of M&JB Investment Company
P.O. Box 1637
Palm Harbor, FL 34682-1637
United States
Tel: 727/786-4567
E-Mail: timb001@phmainstreet.com
WWW: http://www.phmainstreet.com/mba/
Since 1971: "Software for the finest computer - the Mind"